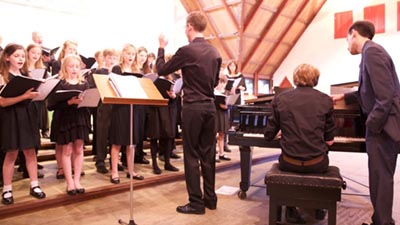 Junior Choir
The Choir offers children from 7-14 a fantastic opportunity to sing and appreciate music. It meets every Wednesday in term-time from 6.15-7.15pm in church. Half of the time is spent playing music-related games and the other half preparing pieces to sing at Sunday services. The children then sing once a month at the 10am service on a Sunday, often with the Senior Choir, and at occasional Sunday evening services. More details here or you can email The Director of Music or call 07790 434787 for more information.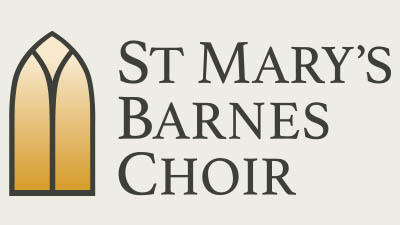 Senior Choir
The choir leads the congregation singing at the 10am Sunday Parish Eucharist and performs an anthem suitable for the day. We also enhance the worship at special occasions such as Ash Wednesday, The Friends Annual Evensong, the final event of The Barnes Music Festivals, Christmas Carols service and other Choral Evensong services.
Rehearsals take place at 7.30-9.00 pm on Wednesday evenings and at 9.00am on Sunday, before the 10.00 Eucharist. New singers are always welcomed and enthusiastic singers are encouraged to join the choir.
Contact the Director of Music.
Daniel Turner
Daniel is an inspiring Choir Master to the Senior and Junior Choirs at St Mary's, teaching many techniques he has learnt as a tenor.
He was born in Northampton where he received his early musical education as a chorister in the famous St.Matthew's Church and also as a piano student of Christina Griffin.
He won an organ scholarship at The Queen's College, Oxford and as an undergraduate he sang with the Choir of New College Oxford. Before long, singing overtook the organ.
Following graduation Daniel has sung as both a solo and concert artist all over the world and has enjoyed a period as a Lay Clerk with the Choir of New College Oxford under the direction of Edward Higginbottom with whom he has recorded widely. Daniel has recently begun a relationship with the baroque orchestra Pratum Integrum who are based in Moscow and with whom he recently performed at the Hermitage. He has been fortunate to work with distinguished artists including Harry Christophers, Nicholas Cleobury Marc Elder, John Elliot Gardner and Edward Higginbottom.
Daniel has also worked with the Friends of St Mary's and local organisations on producing the Barnes Music Festivals since its inauguration in 2013. For full details visit the Festival website here.
Application
St Mary's Church Barnes invites applications for four choral scholarships (SATB) and an organ scholarship. Our choir performs a diverse programme of music under the leadership of Daniel Turner, Director of Music and Organist.
Daniel was organ scholar at The Queens College Oxford and also a Lay Clerk with the Choir of New College. He works as a professional singer and choir director and has extensive experience in the training of young voices.
The choral scholars play a pivotal role in ensuring that a high standard of choral singing is maintained. Candidates should be in or about to enter the Sixth Form, have a passion for singing, an interest in church music and a desire to broaden their knowledge and experience of the repertoire. An enthusiastic approach to singing is essential. The scholarship provides experience for those preparing for Oxbridge choral scholarships and each year some of our scholars have taken up Oxbridge awards. Scholars receive occasional individual voice lessons and musical coaching from Daniel and the opportunity to perform their solo repertoire (both voice and instrumental music) during church services. Crucial sight-reading and choral skills issues are regularly and actively addressed and assessed.
Duties
The Choral Scholars are required for the Wednesday rehearsal (currently from 19:30 – 21:00) and for a rehearsal at 09.00 and the 10.00 service on Sundays. In addition the Choir sings Choral Evensong once a month and some special services and concerts during the year. It is hoped that the Choral Scholars will seek out creative ways in which to enhance the musical life of St. Mary's, whether through sacred or secular means. Full attendance throughout term is expected and absences are at the discretion of the Director of Music.
Should you have any further queries, please do not hesitate to contact Daniel Turner at music@stmarybarnes.org who will be happy to discuss details.
Feast of Baroque Concert
TO CELEBRATE HM THE QUEEN'S 90th BIRTHDAY
Sunday, 19 June 2016
6pm at St Mary's Church
St Mary's Choir perform Handel's Zadok and Vivaldi's Gloria
The combined choirs of St Mary's Church in Barnes will perform a feast of baroque music on Sunday 19th July at 6pm. Accompanied by period instruments, the choirs will join in the national celebrations of HM the Queen's 90th birthday by singing one of Handel's much loved Coronation Anthems. Zadok's justly famed rousing introduction and exciting choral entry was first performed for the coronation of King George II and has been heard at every coronation since. Vivaldi's Gloria was composed for an orphanage in Venice and was immediately well-received, thanks to the composer's typically joyous and vigorous rhythms allied to evocative harmonies.
The concert is in aid of the church's Music Fund which supports scholarships for sixth-form musicians who aspire to choral and organ awards at university. Commenting on the preparations for the concert, Director of Music at St Mary's, Daniel Turner said "preparing these wonderfully rhetorical works is so good for a choir like St Mary's as they have to live every word and note. The choristers must express the dance-like rhythms and sheer exuberance of this style of music or else the whole thing does not really come alive as it should. It is very exciting for us to work with baroque instrumentalists as their sound and articulation really brings out the dynamism of the musical writing."
Tickets for the concert will go on sale shortly and will cost £12.
For further information please email music@stmarybarnes.org
or telephone 020 8741 5422.
About the Festival
The Barnes Music Festival is the annual celebration of music making which includes choral, instrumental, orchestral, opera, jazz, photography and film events. It brings together local music groups, community groups and schools to celebrate music making of the highest standard in conjunction with established and emerging stars. It is based at St Mary's Barnes with around 25 events at different venues across Barnes during a two-week period in March each year. The Festival Committee comprises people from music, church and community groups led by Chairman Andrew Summers and Artistic Director Daniel Turner.
The inaugural Festival took place in 2013 with the theme Holst & the English Tradition celebrating the centenary of Gustav Holst living in Barnes.  The Festival returned in 2014 with an extended two-week programme celebrating Three Greats: Elgar, Delius, Holst & the English Tradition marking the 80th anniversary of these landmark composers.  For 2015 the Festival took as its theme Magna Carta, Music & Freedom celebrated the 800th anniversary of Magna Carta and its links with Barnes. For 2016, the theme was Handel & Composers of Barnes celebrating the rich variety of composers who have lived and worked in Barnes from Handel to Holst, Howells to Howard Goodall and Roxanna Panufnik.
The 2017 Festival runs from 11th to 26th March 2017 with the theme Music & Place. The programme will be published in October 2016 with tickets on sale in December 2016.
Composers of Barnes
Copies of the book Composers of Barnes – The Flow of Inspiration by Eleanor Oldroyd are available from Barnes Bookshop or by mail order.