St Mary's Church Hall, known as Kitson Hall, is an enormously versatile venue. Throughout the week it is used for classes, at weekends it becomes the perfect place to run a crafts fair, jumble sale or shopping event, and many evenings see it transformed into a glamorous party space or performance venue. It has a large hall with stage, and a smaller hall, plus modern kitchen facilities.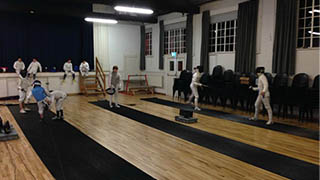 Regular Classes
Both our large and small halls are used for a huge variety of classes ranging from dance classes (we have a ballet barre) to gymnastics, t'ai chi, theatre classes and even puppy training. You can see the current timetable of daytime and early evening classes by scrolling down. If you are interested in hiring the hall for a regular class you can see the fees at the bottom of this page and contact AJ who organises bookings by clicking on the link at the bottom of this page..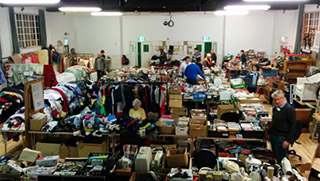 Fairs & Jumble Sales
The Kitson Hall is a fabulous place to hold a shopping event. Throughout the year we host numerous jumble sales and more upmarket shopping evenings. The space is so versatile that it lends itself well to selling bric a brac on one day and designer clothes on the next. We have a fully fitted kitchen so if your event needs a café element that's easy to organise. Plus we have a large storage facility full of foldaway tables and chairs for our venue hirers to use.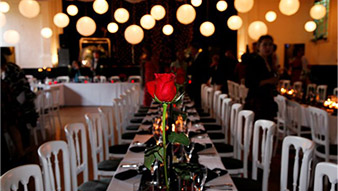 Party Venue
It's wonderful to see the hall transformed into a party venue. From a great place to hold children's parties to a magnificent space to dress for a wedding reception or a special party we have everything you need. Our kitchen facilities really come into their own for mass catering, and it's extraordinary to see how inventively it can be dressed. Over the years we've seen it become anything from barn dance venue to a sophisticated nightclub.
Two halls
There are two Halls within the Kitson Hall building called the Small and Large Hall. Their approximate dimensions are:
Large Hall 16m long x 13m wide x 4.5m high (to lowest beam)
Small Hall 6m long x 13m wide x 4.5m high (to lowest beam)
There are toilet facilities (including disabled) in both Halls. There are 40 trestle tables (2ft wide x 6ft long) and 200 stackable chairs that may be used when hiring. The large hall can seat up to 200 people and the small hall 40/50 seated, depending on the event.
Kitchen
We have a fully equipped stainless steel catering kitchen with an electric range oven and electric hob, microwave oven, dishwasher, two catering urns, two kettles, fridge and freezer. The use of the kitchen is included in any hiring but facilities may have to be shared if simultaneous events are occurring in both Halls. We have a limited amount of assorted crockery which may be hired upon request for an additional fee.
Ballet Barre
We have recently installed a 9m long beech ballet barre in both adult and children's heights along one side of the Large Hall. This is being well-used for adult and children's ballet and a variety of exercise classes.
Sound System
Kitson Hall has a fully integrated professional sound system in the Large Hall. It is able to play CD's and to connect to MP3 players and other devices such as phones and tablets. There are two professional microphones and stands and four sockets located around the Hall for their use. There is a hearing loop for those who are using hearing aids. The system may be hired upon request for an additional fee. If you are having music, the hall outer doors must remain shut and the music must cease by 10.30pm and the Hall vacated by 11pm.
Flooring and lighting
There is lovely real wood flooring throughout the Small and Large Hall. If you wish to hire a bouncy castle for your event, then the floor must be protected with a mat. Also any soft balls that are used must be non-marking, no hard balls are allowed. We have strip lighting throughout the Halls but there are also downlighters in the Large Hall which can be used to create a muted, more atmospheric atmosphere. There are blackout blinds and curtains decorating the Large Hall windows.
Stage
The Large Hall has a raised wooden stage and lighting equipment suitable for drama or musical events. The Hall has a wooden floor surface suitable for dancing. The front six feet of the stage (in front of the stage curtain) is included as part of normal hiring agreements. Full use of the stage is by request and may incur an additional fee.
What's on at The Kitson Hall?
See timetables, booking information and hire fees below
If you would like to hire the Kitson Hall either to organise a regular class or to book a one-off event you can contact our bookings manager directly by using the button below. Aternatively, you can make a request via our online bookings portal by clicking on the plus symbol next to your desired date on the monthly calendar above to generate a booking request.
Kitson Hall is situated on a residential road and we would ask all hirers to be considerate and respectful of our neighbours in terms of noise (when entering and exiting the Hall) and also parking (please do not park across driveways). Please click here to see our conditions of hire.
| Fees & Booking 2023 -2024 | | |
| --- | --- | --- |
| Small hall one-off (education/meeting) | per hour | £27.50 |
| Small hall party (minimum 3 hours) | per hour | £33 |
| Small hall regular hire | per hour | £25 |
| Large hall one-off (education/meeting) | per hour | £44 |
| Large hall party (minimum 3 hours) | per hour | £55 |
| Large hall regular hire | per hour | £35 |
| Large hall commercial hire - 9am to 5pm | | £330 |
| Large hall charity hire - 9am to 5pm | | £165 |
| Large hall charity hire | per hour | £21 |
| Small hall commercial hire - 9am to 5pm | | £200 |
| Small hall charity hire - 9am to 5pm | | £100 |
| Small hall charity hire | per hour | £14 |
| Weddings - fee for both halls Friday afternoon until Sunday at 6.30pm | | £1,100 |
| Funeral - large hall (no charge in special circumstances) | | £135 |
| Sound system hire - Large hall only | | £55 |