Events
Please click on the images below to read the latest news articles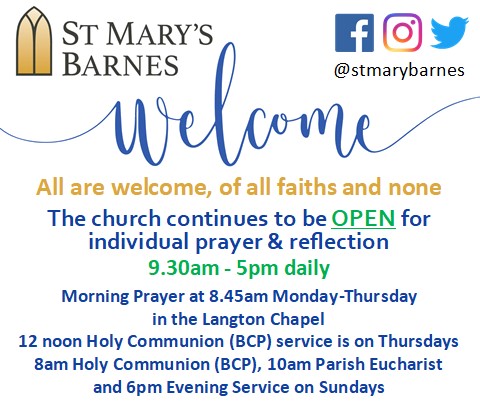 Click on the 'News' navigation at the top of the screen to read a copy of the latest 'Weekly News'
Weekly News and Diary Dates
Barnes Team Rector & Associate Priest

Rev'd James Hutchings, Rector
Revd James Hutchings was instituted as Barnes Team Rector and Vicar of St Mary Barnes in July 2019.  
He was previously Team Rector of Littleham-cum-Exmouth with Lympstone, and Rural Dean of Aylesbeare, in the Diocese of Exeter. He previously served in other parishes in the same diocese.
He graduated from Exeter University (Economics) and lived in London for 22 years before moving to Devon when he was ordained. He worked in London initially in banking for Barclays and Kleinwort Benson. He then worked in the voluntary sector running the cross-parliamentary Future of Europe Trust and was latterly Regional Director of the Shaw Trust, a national disability charity. Along the way James has been a local councillor and parliamentary candidate. 
His faith grew as an active member of St Leonard Streatham where he was involved in setting up the Spires homelessness centre, and at St Mary Twickenham and he was ordained in 2006.
James is married to Alice, a solicitor who lectured at the College of Law and Guildford  and was Administrator for the Anglican chaplaincy at Exeter University. They have 3 children: Ben, a graphic designer working for a firm of architects in central London; Ollie who works for the online bank Monzo on their recruitment team and Sarah, training to be a primary school teacher.
Alice and James enjoy the opportunities offered in Barnes to go into central London for a variety of culture, and the local environment and amenities in Barnes, notably the Common, the river and the local cafes, pubs & shops, community groups and cinema.  Life has been enriched by the arrival of Maple, a spaniel puppy, in February 2023.
James says "Barnes is a great place to live, and it is stimulating to be at St Mary's which lies at the heart of that community.  The challenge is to preserve and enhance that sense of community in an inclusive way, as we share the love of God for all as shown to us in Jesus Christ".
James will be on sabbatical from 14 May – 6 August, 2023.
"See, the former things have come to pass and new things I now declare…sing to the Lord a new song" (Isaiah 42:9-10)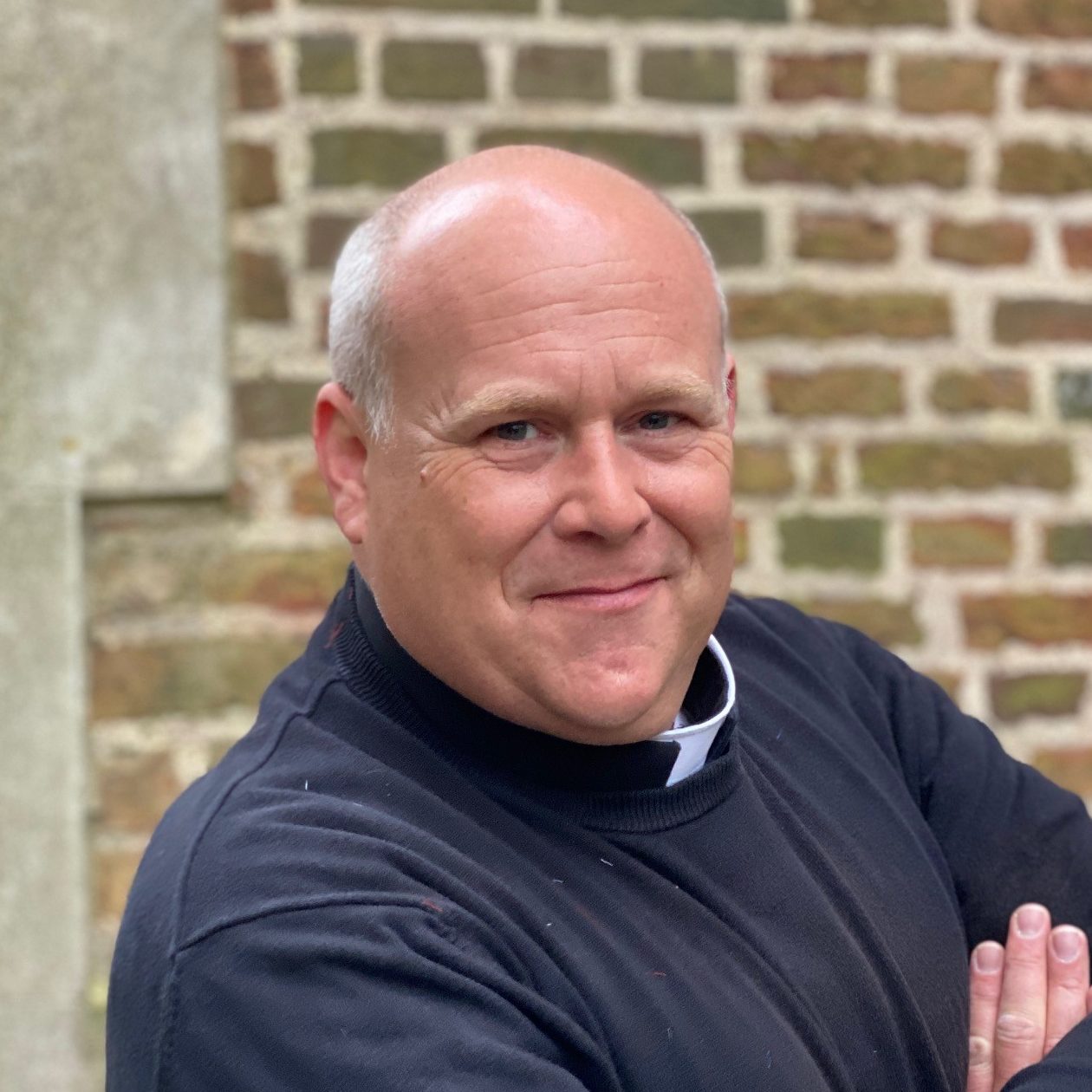 Rev'd James Marston, Associate Priest
A former journalist, James was trained for Holy Orders at Westcott House in Cambridge where he studied theology ministry and mission. Ordained deacon in 2019 and priest in 2020, James served his curacy at Aldeburgh on the east coast. James' interests include liturgy, music and church history as well as community engagement. In his spare time James enjoys museums, current affairs, theatre and history. James will split his role as Associate Priest between St Mary's Barnes and St Michael & All Angels and looks forward to being part of the worshipping and other communities in Barnes. 
James says 'To be a priest is many things – not least to be selfless and vulnerable and by doing so to point others towards trusting in God in their lives – no easy task in a world where we habitually eschew the need for the spiritual, dismiss with ease the religious, and worship instead self and materialism. I think we are all spiritual beings, all influenced by the metaphysical and we are all, in the end, God's creatures – indeed we are interconnected and intertwined by love and God's grace far more than we are by aeroplane travel or football or having a mortgage, we just don't often recognise it, largely I think, because belief in God challenges us to change.
Yet to begin see the world in this way removes much of the fear we all experience. To have a faith means to negate fear and live in hope. It is this faith I hope to keep and, maybe even pass on, as I continue my journey."