Churchyard & Daily Friends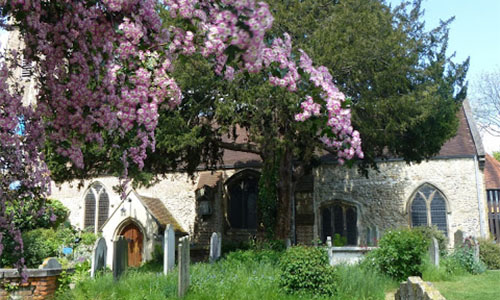 Churchyard Team
Our team of gardeners are responsible for the beautiful rural appearance of our churchyard, through their work of planting and tending the garden areas, cutting the grass and sweeping the paths.
Their work on the expanded Garden of Remembrance has made it an attractive area for quiet contemplation.
Churchyard garden work parties from 10.30-11.30 every Saturday morning. Gardeners and general helpers warmly welcomed. An ideal opportunity to enjoy a good cup of coffee and some yummy cake too! Contact Rosie Findlater 020 8876 5338 or just turn up.
Daily Friends
Our volunteers offer a friendly welcome to visitors at St Mary's.  Many people pop in as they pass by or if they are following the Barnes Trail.  Daily Friends talk to visitors about the history of St Mary's, show them around, answer questions or allow quiet prayer and reflection.  To be a Daily Friend, you only need to volunteer one hour a week or fortnight. This is a great way to learn more about the history and life of our church and to be part of our community. 
To join the team of Daily Friends, please contact Sian Walford or phone her on 0208 876 1432