"O come let us sing unto the Lord; let us make a joyful noise to the rock of our salvation" (Psalm 95).
We take our response to this Biblical encouragement seriously (as well as joyfully) at St Mary's.  We know that you welcome the music at our services, and our organist and choirs do appreciate very much your kind words to us when you feel we have produced high quality pieces of music.  It is important that the music achieves what we all seek: that it enhances the worship for you.
St Mary's also seeks to bring on new talent and we have for a number of years given a scholarship to a young person developing on the organ.  Step by step they contribute more to the music in our Eucharist, accompanying hymns, the communion setting and anthems.
We in the adult choir meet on Wednesday evenings and again on Sunday mornings before the 10am service.  We always have a range of music to learn. It is a great experience and education; and we leave feeling better and full of endorphins!
If you are a bit of a singer we would love you to join us in the adult choir. All new voices are welcome.
Then there is the junior choir.  The numbers go up and down of course and young people will insist on growing too old for it.  But they have a great deal of fun, and they contribute beautiful singing to special services. They practise on Wednesday evenings from 6.15 to 7.15; half their time is spent playing music-related games and the other half learning pieces for services.
If you would like to come and see the choirs in rehearsal, have a word with Judy Gowing [email protected] the choir administrator, or one of the choir.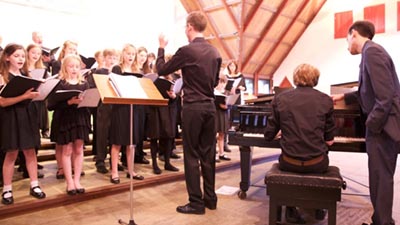 Junior Choir
The Choir offers children from 7-14 a fantastic opportunity to sing and appreciate music. It meets every Wednesday in term-time from 6.15-7.15pm in church. Half of the time is spent playing music-related games and the other half preparing pieces to sing at Sunday services. The children then sing once a month at the 10am service on a Sunday, often with the Senior Choir, and at occasional Sunday evening services. More details here or you can email The Director of Music for more information.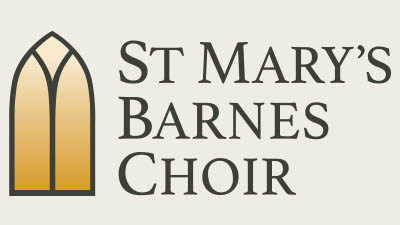 Senior Choir
The choir leads the congregation singing at the 10am Sunday Parish Eucharist and performs an anthem suitable for the day. We also enhance the worship at special occasions such as Ash Wednesday, The Friends Annual Evensong, the final event of The Barnes Music Festivals, Christmas Carols service and other Choral Evensong services.
Rehearsals take place at 7.30-9.00 pm on Wednesday evenings and at 9.00am on Sunday, before the 10.00 Eucharist. New singers are always welcomed and enthusiastic singers are encouraged to join the choir.
Contact the Director of Music.
Toby Ward was born in Wharfedale in 1993. His formative training came as one of the last choristers of Leeds Parish Church (now Minster) in singing and organ with Dr Simon Lindley and David Houlder, before leaving for Gloucester Cathedral under Adrian Partington as a tenor choral scholar. He is currently mentored in conducting and performance practice by Paul Brough as part of his involvement in the musical tradition at St Mary's, Bourne St., London.
He read music at King's College, Cambridge with particular focus on early music and continuo alongside a choral scholarship in King's College Choir under Sir Stephen Cleobury, with whom he toured internationally and performed on BBC radio and television with major solos on the annual Carols from King's programme. Postgraduate studies in singing with Alison Wells followed at the Royal College of Music prior to the pandemic.  
He has conducted live on Radio 3 with Ensemble Pro Victoria and at major festivals including the London International Early Music Festival, Cambridge Early Music Festival, and is in demand as a guest conductor, repetiteur and continuo player across the capital.
Known also for inspiring and developing choristers and young singers, Toby has taught the boy choristers of Durham Cathedral, Newcastle cathedral and Westminster Abbey alongside work as a workshop leader for the Tenebrae schools programme, occasional work with London Youth Choir and a happy spell as acting director of the York Chapter House Youth Choir.
Upcoming projects including directing a CD of works by the Victorian great, S.S. Wesley with the Choir of the National Musicians' Church, also on Delphian Records.

Application
St Mary's Church Barnes invites applications for four choral scholarships (SATB) and an organ scholarship. Our choir performs a diverse programme of music under the leadership of our Director of Music and Organist.
The choral scholars play a pivotal role in ensuring that a high standard of choral singing is maintained. Candidates should be in or about to enter the Sixth Form, have a passion for singing, an interest in church music and a desire to broaden their knowledge and experience of the repertoire. An enthusiastic approach to singing is essential. The scholarship provides experience for those preparing for Oxbridge choral scholarships and each year some of our scholars have taken up Oxbridge awards. Scholars receive occasional individual voice lessons and musical coaching and the opportunity to perform their solo repertoire (both voice and instrumental music) during church services. Crucial sight-reading and choral skills issues are regularly and actively addressed and assessed.
Duties
The Choral Scholars are required for the Wednesday rehearsal (currently from 19:30 – 21:00) and for a rehearsal at 09.00 and the 10.00 service on Sundays. In addition the Choir sings Choral Evensong once a month and some special services and concerts during the year. It is hoped that the Choral Scholars will seek out creative ways in which to enhance the musical life of St. Mary's, whether through sacred or secular means. Full attendance throughout term is expected and absences are at the discretion of the Director of Music.
Should you have any further queries, please do not hesitate to contact [email protected] to discuss details.
About the Festival
The Barnes Music Festival is the annual celebration of music making which includes choral, instrumental, orchestral, opera, jazz, photography and film events. It brings together local music groups, community groups and schools to celebrate music making of the highest standard in conjunction with established and emerging stars. It is based at St Mary's Barnes with around 25 events at different venues across Barnes during a two-week period in March each year. The Festival Committee comprises people from music, church and community groups led by Chairman Andrew Summers and Artistic Director, James Day.
The inaugural Festival took place in 2013 with the theme Holst & the English Tradition celebrating the centenary of Gustav Holst living in Barnes.  The Festival returned in 2014 with an extended two-week programme celebrating Three Greats: Elgar, Delius, Holst & the English Tradition marking the 80th anniversary of these landmark composers.  For 2015 the Festival took as its theme Magna Carta, Music & Freedom celebrated the 800th anniversary of Magna Carta and its links with Barnes. For 2016, the theme was Handel & Composers of Barnes celebrating the rich variety of composers who have lived and worked in Barnes from Handel to Holst, Howells to Howard Goodall and Roxanna Panufnik.
The 2017 Festival runs from 11th to 26th March 2017 with the theme Music & Place. Full details are at www.barnesmusicfestival.com with tickets available online or from Chestertons offices in Barnes, North Barnes and East Sheen.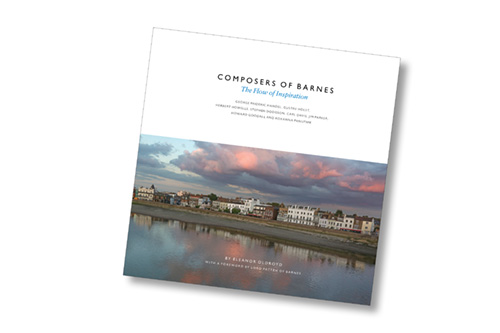 Composers of Barnes
Copies of the book Composers of Barnes – The Flow of Inspiration by Eleanor Oldroyd are available from Barnes Bookshop or by mail order.