Bells, Practices and Quarter Peals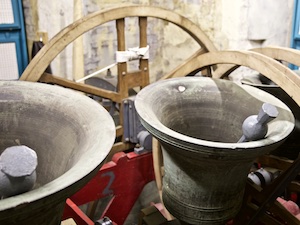 St Mary's Tudor Bell Tower (c 1485) has eight bells, three installed in 1576, 1616 and 1660 and the other five in 1897 to commemorate Queen Victoria's Diamond Jubilee.   Tenor 10½ cwt in G.
We have an active band of ringers of all ages.
The Tower is affiliated to the Surrey Association of Church Bell Ringers and the ringers are also in close liaison with the ringers at other nearby towers.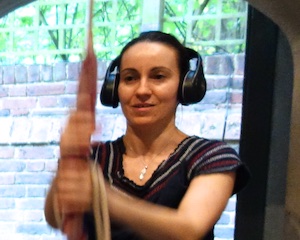 Visiting ringers are always welcome. If you are interested in joining us or learning to ring please email the Tower Captain
Friday – Main Practice
7.30 – 9.15 pm (following the QP attempt at 6.30).  All abilities from doubles to spliced surprise major.
Saturday – Beginners' Practice
9.15 am – Simulator and handling practice (most weeks but check the Bellringers' Calendar or with the Tower Captain).
10.30 am to 12.00 noon – Open practice
New Recruits 
Individual handling tuition at 9.15 on Saturdays and by arrangement on other days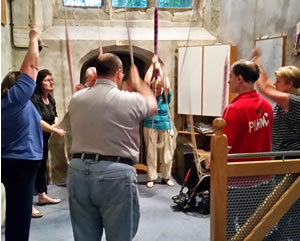 There is at least one Quarter Peal attempt every Friday at 6.30 pm prior to the general practice.
We allow up to 6 peal attempts a year.  Please email the tower captain if you would like to request the bells for a peal.
See below for link to the current Quarter Peal rota
See Quarter Peal and Peal records on Bellboard
For service ringing times, finding out how to join and to listen to our bells view the Introductory Page


We currently have three bell handling teachers accredited by the Association of Ringing Teachers and our training follows the progressive learning scheme for bellringers.   Our trainers and a number of others in the band are all DBS checked for Safeguarding of children and vulnerable adults.