The Season of Lent
In Lent, Christians reflect on Jesus' 40 days testing by the devil in the wilderness through self-examination & penitence, self-denial, charitable giving, study, and preparation for Easter. Ways in which these are encouraged here at St Mary's include supporting the Bishop of Southwark's Lent Call, supporting projects combatting food insecurity locally and in Zimbabwe and Jerusalem; and our Lent course "A River in the Desert". Details of both can be found below.
The season begins with Ash Wednesday, by being marked in ash with the sign of the cross as a sign of penitence. This year you are invited to do this at home as part of the online service. Churches are kept bare of flowers and decoration. The Fourth Sunday of Lent (Laetareor Refreshment Sunday) was historically allowed as a day of relief from the rigour of Lent, and now coincides with Mothering Sunday as we give thanks both for mothers and for 'mother church'. We will be distributing flowers outside the church lychgate as we did in 2020 right at the start of the first lockdown.
As Holy Week approaches the readings begin to anticipate the story of Christ's suffering and death, and the reading of the Passion Narrative gives to the Fifth Sunday its name of Passion Sunday. There are many devotional exercises which may be used in Lent and Holy Week outside the set liturgy. The Stations of the Cross, depicting scenes from Christ's journey to the cross as a focus for prayer is one such, and will be displayed in the church in the latter part of Lent.
Online Church at St Mary's Barnes
You can click on the video links below to see a selection of recent services and sermons. You can also view our daily prayers on Facebook or see the whole selection of our videos on our YouTube channel by clicking on the buttons below. Please note you do not have to be a Facebook member to view, you can click on 'Not Now' when it prompts you to join.
8am Holy Communion BCP 28th Feb 2021
Bishop of Southwark's Lent Call 2021
During Lent we traditionally support the Bishop of Southwark's Lent Call, this year hopefully giving generously towards food insecurity. You can most easily do this
by giving to our bank account:
St Mary's PCC Barnes
Sort Code 40-52-40
Account Number 00021287
Reference "BLC [your name]"
That will allow us to claim Gift Aid in addition to your donation for the causes being supported in 2021.

2021
14 March Mothering Sunday: Distribution of flowers outside church and children's activities
23 March PCC
28 March Palm Sunday: An act of worship in the churchyard if not possible in church.
29 March Start of Holy Week : Special evening services in church and/or online.
1 April Maundy Thursday: Evening service in church and/or online
2 April Good Friday: Service in church and/or online, and also observance in churchyard
4 April Easter Day: Dawn lighting of the fire outside church, and short service in church if possible. Other Easter services in church and/or online and short celebration in churchyard
25 April Pets blessing in churchyard/church
29 April Annual Parochial Church Meeting
9 May Visit by Bishop of Southwark at 10am service
9-15 May Christian Aid Week
13 May Ascension Day
17-31 May Barnes Music Festival
23 May Pentecost Sunday 
Annual Garden of Remembrance service 11.45am
26 May PCC
30 May Trinity Sunday
22 June PCC
10 July Barnes Fair
12 Sept Patronal Festival: Parish lunch (if possible)
21 Sept PCC
24-26 Sept Barnes Bookfest
25 Sept Harvest Supper (if possible)
26 Sept Harvest Festival
1 Oct Glass Door Annual Sleepout
13 & 14 Oct Barnes Charity Fashion Show (if possible)
17 Oct Friends Choral Evensong
31 Oct All Saints Day
All Souls service 6pm
14 Nov Remembrance Sunday
16 Nov PCC
20 Nov St Mary's Christmas Fair
28 Nov Advent Sunday
4 Dec Christmas Cracker
12 Dec Christingle
19 Dec Service of Lessons and Carols
24 Dec Christmas Eve
25 Dec Christmas Day
26 Dec St Stephens Day (Sunday services)
Parish Eucharist 28th Feb 2021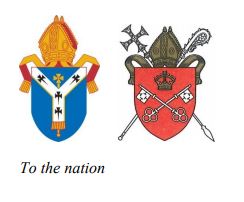 Call to Prayer from Archbishops of Canterbury and York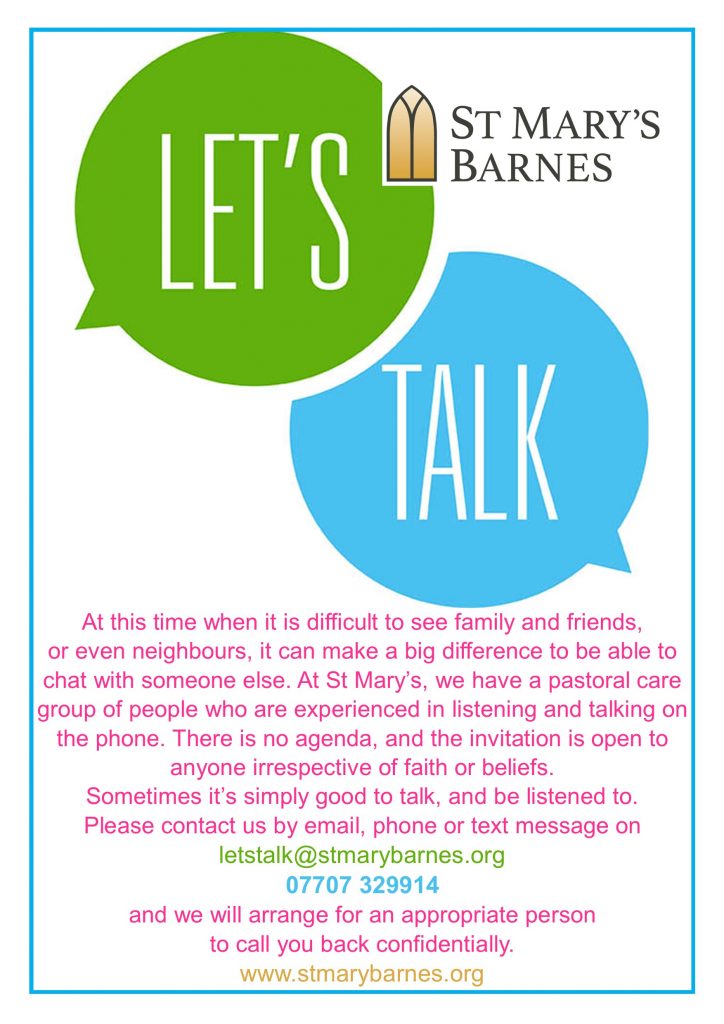 Lent Course 2021 at St Mary's Barnes
A River Through the Desert: A Lent Pilgrimage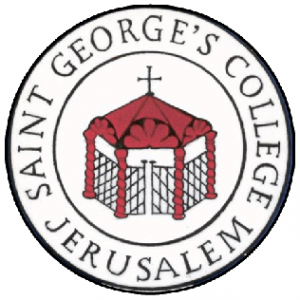 This year's Lent course is different in two important ways. Firstly it will be online for obvious reasons, and secondly it is led by my predecessor Richard Sewell. The title suggests that a Lent course should water faith in the way a river will cause the desert to flower and flourish in unexpected ways. You can follow the course individually, or by taking part in the group zoom on a Monday evening.  Each week there is a reflection to read in advance; a short video which you can watch in advance but which we will also look at on Zoom; a bible reading; questions for discussion; and time for prayer. Each Zoom will be about one hour. I hope this course will be part of your Lent journey this year.  
Rev'd James
Our Lent course is led by Richard Sewell and you can follow it either individually or as part of a zoom group on Mondays at 6-7pm.  If you are joining the group please try and read the reflection in advance if you can.  
Meeting ID: 891 9989 4253  Passcode: 231467
Week One - The Desert
Suggested Bible Reading:
The Temptation of Jesus 
Reflection: Week 1 The Desert
Passcode: dr4r!2HB
Week Two - The Water Well
Suggested Bible Reading:
Jesus and the Woman of Samaria
Reflection: Week 2 The Water Well
Passcode: 6Z^M?cU$
Week Three - The Mountain
Week Four - The Sea
Suggested Bible Reading:
Jesus Stills the Storm
Reflection: Week 4 The Sea
Week Five - The Road
Jesus's Triumphal Entry into Jerusalem; Jesus Weeps Over Jerusalem; Jesus Cleanses the Temple
Reflection: Week 5 The Road
Week Six - The Garden
Suggested Bible Reading:
Jesus Prays in Gethsemane; 
The Betrayal and Arrest of Jesus
Reflection: Week 6 The Garden
Jesu, Joy of Man's Desiring by our Director of Music and music scholars
Anna Haestrup, aged 10, singing first solo at St Mary's Barnes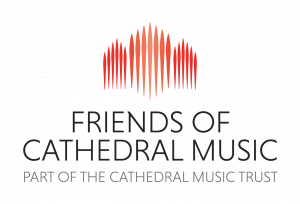 Cathedral Choirs Sing Forever
Choristers from across the UK are singing for Friends of Cathedral Music because they want to help cathedral choirs survive