Ordinary Time
Each year the Church journeys through the year with Christ by observing the seasons of Advent, Christmas, Epiphany, Lent and Easter but the longest of all the seasons is Ordinary Time starting on Trinity Sunday. But there is nothing ordinary about 'Ordinary Time'. It is not about being common or mundane. The word derives from the Latin word ordo from which we get the English word 'order'. Thus Ordinary Time refers to the ordered life of the Church. In this season, which includes the whole summer season, we celebrate Christ's life and teaching celebrating his presence amongst us even today transforming our lives.
The liturgical colour of the season is green which is expressive of creation. Like the foliage that is used to set off flower arrangements to best advantage, greenery is beautiful in its own right but is there also to highlight the beauty that surrounds it.
Online Church at St Mary's Barnes
You can click on the video links below to see a selection of recent services and sermons. You can also view our daily prayers on Facebook or see the whole selection of our videos on our YouTube channel by clicking on the buttons below. Please note you do not have to be a Facebook member to view, you can click on 'Not Now' when it prompts you to join.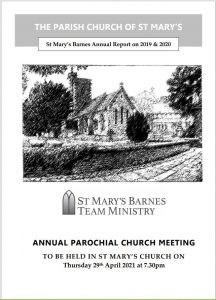 Please click the image above to view the APCM Report for the years 2019 & 2020. The APCM meeting was held on Thursday 29th April at 7.30pm.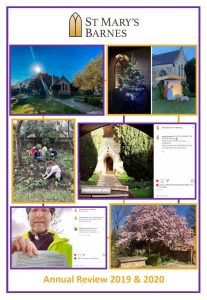 You can view St Mary's Barnes Annual Review for 2019 & 2020 by clicking the image above.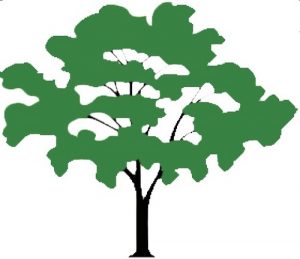 UNDER TREE SCHOOLS
This month we remember our charity that funds a school for girls in Malek, South Sudan. St Mary's has supported UTS since it was first created by our then curate Rev Joseph Ayok-Loewenberg. He knew that girls did not get education in South Sudan. His creation has encouraged successive generations of girls in his home town to realise that they had alternatives to getting married and pregnant at age 15. The school is recognised as among the best in the region; and when girls graduate at age 15, some each year have gone on to secondary school and then to training for careers. Girls get academic teaching, but also training in useful skills – sewing, IT and agronomy, important in their agricultural economy. Do please consider donating to Under Tree Schools, as their normal fund-raising events have been decimated by our UK Covid precautions. You can give by:
–  Bank transfer to St Mary's PCC Barnes:
Sort Code 40-52-40, Account 00021287.
   Please put "UTS" and your name as the reference,
then we can claim Gift Aid on your donation.
 –  Cash in a church Gift Aid envelope, labelling it "UTS" and leave it in church.
www.undertreeschools.org
10am Service on Sunday 25th July 2021with Rev'd Funke Ogbede preaching
Rev'd James Hutchings read the text of 'Gratitude as a source of treasure' by Brother David Steindl-Rast at a service recently. Here it is in video format. 
Music Resources at St Mary's Barnes
Jesu, Joy of Man's Desiring by our Director of Music and music scholars
Anna Haestrup, aged 10, singing first solo at St Mary's Barnes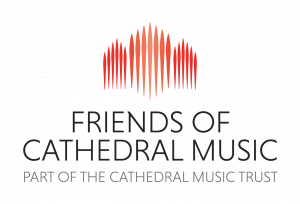 Cathedral Choirs Sing Forever
Choristers from across the UK are singing for Friends of Cathedral Music because they want to help cathedral choirs survive